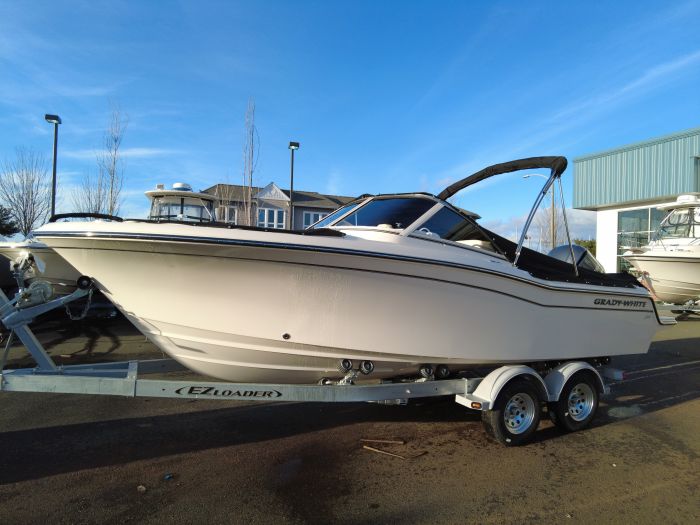 Grady White Freedom 215
Packed with luxury not typically seen in boats of this size and category, the 21-foot Freedom 215 is innovative, stylish and versatile. Leading off Grady's popular dual console boats series, the 215′s roomy beam, plush seating options, and lockable head compartment make this a family friendly boat. Aft jump seats with swing out backrests provide easy access to built-in swim platforms, horizontal storage for six fishing rods and an optional ski pylon makes this pleasure boat ready to deliver an exhilarating day on the water.
View Product
Details
LOA (Length Over All):
23'3"
Weight w/o Engine:
3150 lb.
Max HP (horse power):
250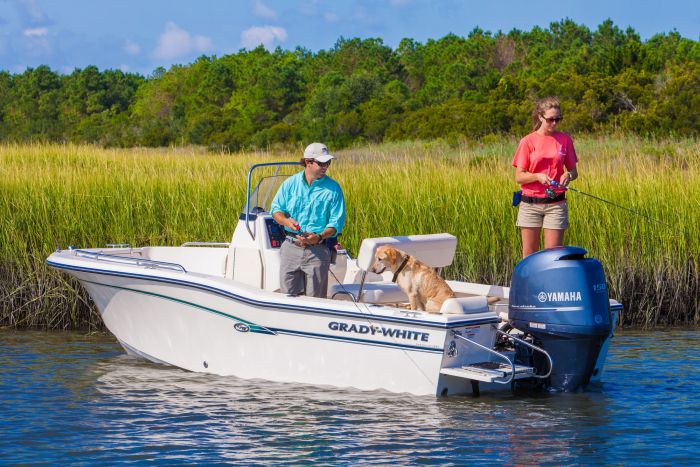 Grady White Fisherman 180
The best center console boat under 20-feet, the 18-foot Fisherman 180 offers numerous features and creature comforts not found on other boats its size. From the 11-gallon livewell to storage for up to 12 rods, the 180 is fishing ready but quickly transitions for family boating. A swim platform with port side ladder offers easy access to and from the water, and an optional ski pylon makes it perfect for water sports. Built on Grady-White's award winning SeaV²® hull, this is the best riding 18-foot boat!
View Product
Details
LOA (Length Over All):
17'10"
Weight w/o Engine:
2150 lb
Max HP (horse power):
150 HP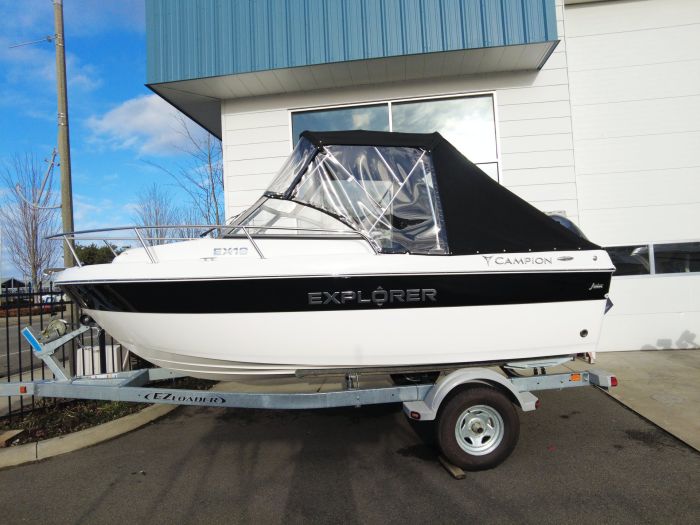 Campion EX18
Our Explorer models are rugged workhorses, with a host of features to make cruising more comfortable; whatever it is you want to enjoy – beach picnics, fishing, water skiing or a simple cruise exploring the shoreline.
The Explorer has a layer of Kevlar is built into the high impact area of the keel to add strength and protection. Its three-dimensional woven material is used in the hulls which allows for a stronger, stiffer and lighter laminates.
View Product
Details
LOA (Length Over All):
19'6"
Weight w/o Engine:
1990lbs
Max HP (horse power):
150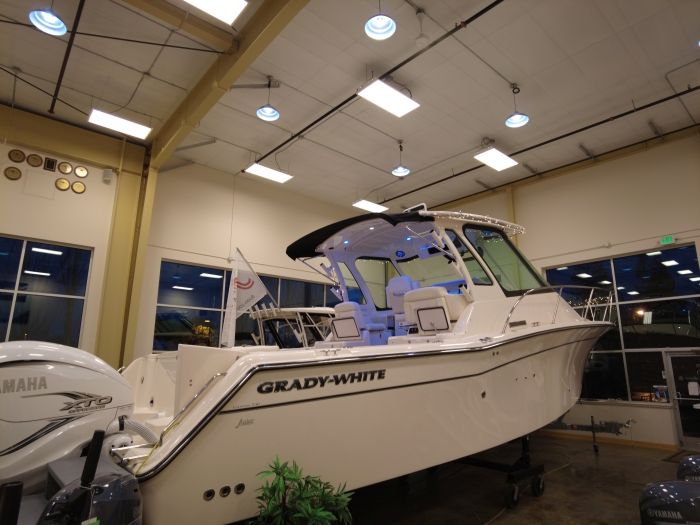 Grady White Express 330
Named one of the 25 all-time greatest offshore saltwater fishing boats, Grady's Express 330 delivers on comfortable seating, an abundance of features, a luxurious cabin and exceptional overall performance. This 33-foot fishing express cabin boat is also great for cruising with family and friends or enjoying a weekend away. Amenities such as air conditioning and a galley with sink and stove add to the comforts this cabin boat offers as standard. Optional features like Helm Master EX® with Full Maneuverability, outrigger kits, refrigerator and a grill put this boat in a league of its own for customer satisfaction. And of course, like all other Gradys, this amazing boat comes standard with the top-performing, Grady-White exclusive SeaV²® hull.
View Product
Details
LOA (Length Over All):
33'6" (10.21 m)
Weight w/o Engine:
10,840 lb. (4917 kg)
Cockpit Depth:
29" (0.74 m)
Max HP (horse power):
850 (634 kW)
Fuel Capacity:
331 gal. (1253 l)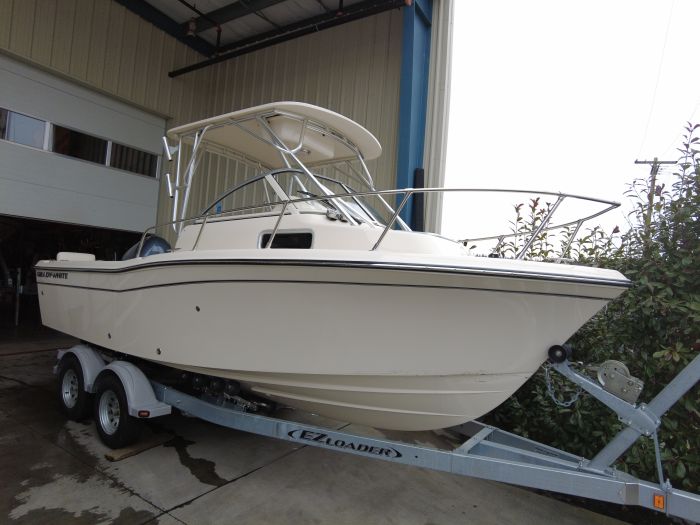 Grady White Adventure 208
This 20-foot walkaround cabin boat is a foundation of the Grady-White heritage. In its fifth decade of refinement, the design has been enhanced with a variety of must-have features, as well as the addition of Grady's highly acclaimed SeaV²® hull, providing owners with an unmatched boating experience. Suitable for fishing and a broad range of fun on the water, the Adventure 208 includes ample storage for fishing rods, two large fish boxes, a head area with dedicated storage and a vee berth for overnighting. This is the best cabin boat to introduce your family to the enjoyment of boating!
View Product
Details
LOA (Length Over All):
20'4"
Weight w/o Engine:
2900 lb.
Max HP (horse power):
250
Contact us about this boat